Enterprise Europe Network (EEN) is the main instrument of the European Union strategy for increase of economic growth and employment. It consists of almost 600 organizations from over 50 countries, which are engaged in supporting entrepreneurship. Through its over 3,000 experts, EEN helps small and medium-sized enterprises to achieve the maximum of business opportunities in the European single market.
Enterprise Europe Network consists of chambers of commerce, technology centres, universities, research institutes and development agencies, interconnected by powerful databases, through which they share their knowledge and information on technologies and business partners. Enterprise Europe Network is closely linked to the European Commission, which allows for constant coherence with the development of EU policies and enables the transfer of the views of small businesses back to Brussels.
Enterprise Europe Network was launched in February 2008 by the European Commission, Directorate-General for Enterprise and Industry, merging the existing network of European information centres and transfer centres, established in 1987 and 1995.
Providing support to small businesses is a cornerstone of the European Union's efforts to ensure economic growth and employment. As small and medium-sized enterprises make up 99% of all enterprises in the European Union and employ 67% of all employees, so what is good for small and medium-sized enterprises is also good for European economy.
EEN services are primarily targeted at small and medium-sized enterprises, but are also available to all other types of businesses, universities and research centres. All network services are completely free of charge for all users.
Enterprise Europe Network provides the following services to its clients:
Business internationalization – When you want to expand your business to other countries, you need capable and reliable partners. EEN helps you find them. Our databases contain thousands of company profiles through which you can identify as well as personally meet potential business partners at our events.
Technology transfer – A network can help you if you need a particular technology or innovation to fit into your business or technology. The largest database of the most modern technologies with over 23,000 included profiles is available to you.
Access to finance – Getting funding represents a great challenge for entrepreneurs and small businesses. EEN experts can help your company get the funding necessary for its further growth. We can help you find the right source of funding through venture capital funds and loans, public aid funds, as well as tax reliefs.
Research funding – Participating in EU research projects is a great way to strengthen your company's competitiveness. EEN helps you with that. Our experts will assess your needs and potentials and connect you with the right partners for your projects.
Advice on EU legislation and standards – EEN experts can help you find your way through the maze of legal regulations and thus make it easier for you to sell your product or service in another EU country.
Intellectual property and patents – If you want to commercialize a new idea, product, service or process, EEN can advise you on how to protect them and thus achieve the most of the ideas and technologies that your company develops.
Connecting with the European Commission – If you encounter problems in doing business in another EU country – share it with us. The European Commission wants to hear what impacts its legislative proposals and initiatives have on small business and is ready to listen to the problems you face.
The Croatian Enterprise Europe Network consortium consists of six partners, of which the Croatian Chamber of Commerce (HGK) is the consortium coordinator, while the Croatian Agency for SMEs, Innovations and Investments (HAMAG-BICRO) is a partner for issues of technology transfer, innovation and research funding.
The Croatian consortium also consists of four regional partners; Technology Transfer Office of the University of Split (UTT), Science and Technology Park of the University of Rijeka (STEPRI), Technology Park Varaždin (TPV) and the Technology and Development Centre in Osijek – Tera Tehnopolis (TERA).
All interested parties can turn for advice and assistance to any partner of the h Croatian consortium, who will, if necessary, redirect them to an individual partner in the network who is responsible for it, either regionally or because it has expertise in the area needed in this case.
Search the database of business and technology partner
In the EEN international technology database, you can view and download the profiles that are published daily in the Enterprise Europe Network technology database. Up to a hundred technological profiles from various fields of activity are added to the database every day, to which companies offer or demand products and services.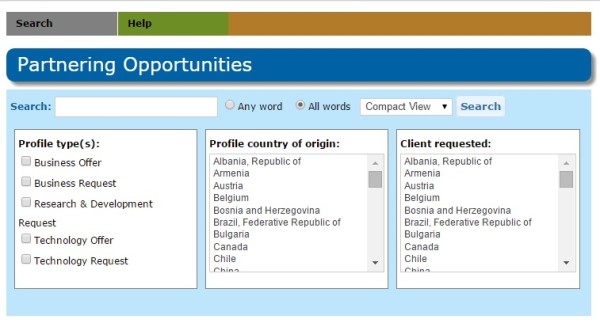 If you find the right partner for technology transfer in the database, if you want to create a profile of your technology and offer it to the EU market, feel free to contact us.
You can download the technical cooperation form here and send it to: een@hamagbicro.hr.
You can download the EEN brochure here.