"A successful entrepreneur is one who manages to find a profitable business model that will bring value to its customers. In order to succeed, stubborn persistence, rising after a fall and learning from mistakes are necessary."
Croatian interactive toy in American school desks
Some argue that a good idea is paramount to business success. Others believe that the idea should be known and sold. Whatever side you take, STEMI has succeeded thanks to its Hexapod, an innovative six-legged walking robot, which is already winning over customers across Europe and America, and is designed so that it can be assembled by elementary school students.
Learning through creation is one of the main advantages of the first Croatian educational robot, which many of the miles call a robotic spider. Namely, STEMI Hexapod enables the acquisition of competencies in robotics and engineering, and comes in a box that contains over 200 parts that need to be assembled correctly in order for Hexapod to come to life. In addition, every Hexapod customer gets access to an online STEM lab with more than 150 carefully designed multimedia lessons that guide them step by step through the process of 3D robot design, assembly and programming, and the development of a mobile application to manage it.
So many parts and lessons may sound discouraging to those who are not fans of technology, but Marin Trošelj, co-founder and CEO of STEMI, explains: "There are two basic target groups for our product. One is young people, elementary and high school students who we want to transform from technology consumers into its creators. There are customers and their parents who want to offer their children an interesting and interactive toy, which will at the same time prepare them for the jobs of the future. The second target group is teachers and educators who want to apply the most advanced STEM curriculum in the classes or workshops they conduct."
Trošelj believes that society as a whole can benefit from their product: "Improving the quality of learning will in the long run lead to more competent experts in the STEM field, through the adoption of the concept of lifelong learning and increased ability of people to practically apply the acquired knowledge."
The company has already donated dozens of Hexapods to Croatian schools, and this robotic teacher is well on its way to becoming indispensable in American schools that teach STEM. In collaboration with Milestone C from Connecticut, Hexapod has already entered a pilot application project in four schools there. With this success, STEMI is working diligently to expand its distribution network primarily for the American, German and British markets. So far, they have sold more than 1,500 of their robots, and recently Hexapod robots have been available to customers in the US and Canada through Amazon.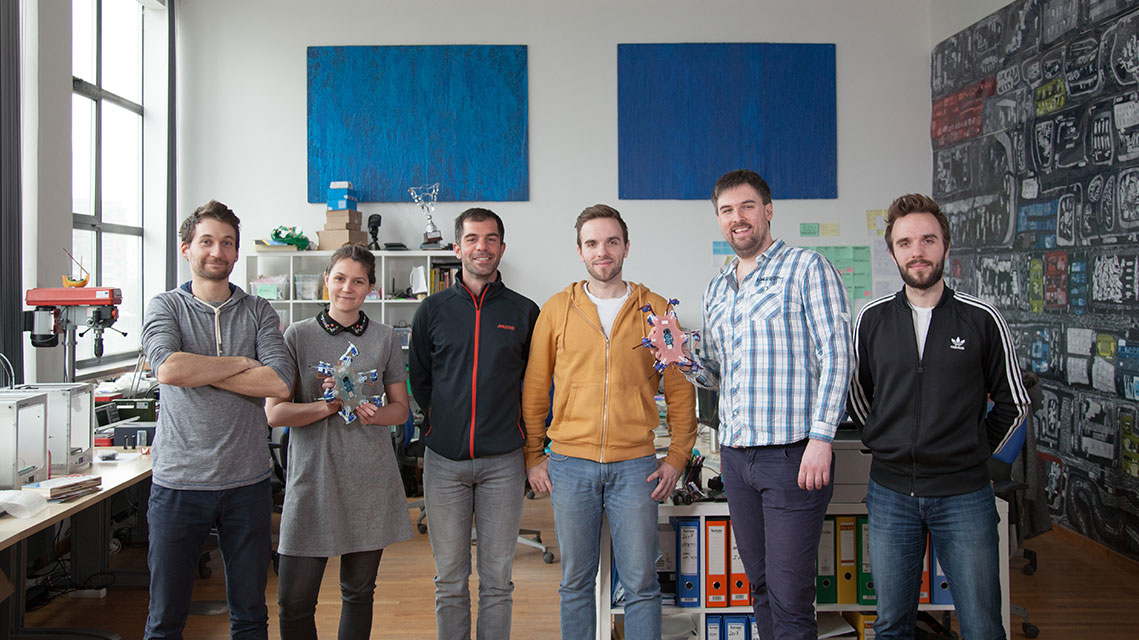 The company STEMI was formed in 2015 as a spin-off from the eponymous program of the University Association Bura Znanja, after a successful group funding campaign on the international platform Indiegogo, where they raised almost USD 37 thousand. This start-up provided the remaining funds needed for the completion of its robot and its commercialization through the Innovation call for newly established SMEs, within which they provided more than HRK 1.4 million. The mentioned call is ideal for companies like STEMI because it encourages the development of newly established SMEs through the successful launch of their innovative products and services with an emphasis on radical innovation and significant improvement in the commercialization of products and services.
A successful entrepreneur is the one who manages to find a profitable business model which will bring value to its customers.
Marin Trošelj
STEMI co-founder and CEO
That applying to this call was the right step is confirmed by Trošelj himself, who believes that entrepreneurs primarily lack capital for primary steps with the exchange of knowledge and experience: "A successful entrepreneur is the one who manages to find a profitable business model that will bring value to its customers. I think we have achieved success, but we still have a lot of room for improvement. Stubborn persistence, rising after a fall and learning from mistakes are necessary for success."
Perhaps it is precisely because of this persistence that STEMI never rests: as part of preparations for global expansion, they launched a new version of their robot late last year and the company's engineers often run educational workshops for children and anyone interested in STEM areas.